Louisville Medical Malpractice Attorney
Patients have a reasonable expectation for their doctor to provide an acceptable standard of care, to make correct decisions, and to react quickly in the event of an emergency. When something goes wrong, patients are often left wondering how such a mistake could happen. At Dolt, Thompson, Shepherd & Conway, PSC, we help people who have been injured by medical malpractice in Louisville, Kentucky.
If you or someone you know has been seriously injured by an emergency room error, hospital negligence, or a doctor's negligence, contact our Louisville medical malpractice attorneys. We offer a free initial consultation to discuss the advisability of filing a medical malpractice lawsuit. Our firm handles all cases on a contingent fee basis.
Contact our Louisville medical malpractice attorneys today at (502) 244-7772 for your free consultation.
Louisville Medical Malpractice Resources
What is Medical Malpractice?
Medical malpractice is when a physician or medical provider fails to treat or improperly treats a medical condition resulting in a patient's harm. The physician's actions are compared with those that a reasonable medical provider in the same profession would take given the same circumstances.  
A patient's dissatisfaction with their medical care does not constitute medical malpractice. 
Who is Liable for Medical Malpractice in Kentucky?
Doctors, surgeons, and family practitioners are not the only medical professionals liable for medical malpractice in Kentucky. Healthcare providers and medical facilities, both public and private, can commit malpractice so long as they are licensed or certified. 
These include but are not limited to:
Hospitals;

Rehabilitation and occupational therapy facilities;

Alcohol and drug dependency programs;

Nursing homes;

Independent living facilities;

Outpatient surgery centers;

Home health agencies;

Psychiatrists and psychologists;

Dentists and orthodontists;

Chiropractors;

Nurse practitioners;

Physicians' assistants; and

Optometrists.
Any healthcare provider that is licensed or certified to perform treatment or to provide medical services may be held liable for medical malpractice in Kentucky. There are no restrictions as long as a medical provider is properly license or certified.
How Do You Prove Medical Malpractice?
If you were harmed by a medical professional or healthcare facility's error or neglect, you may have cause to file a medical malpractice claim. However, to enforce the validity of medical malpractice cases, you must be able to demonstrate what's known as the "four D's of medical malpractice."
Duty: The doctor had a duty of care to the patient.
Dereliction: The doctor failed to uphold the duty of care.
Damages: The patient was injured.
Direct cause: The doctor's failure to uphold the standard of care directly led to the patient's injury.
Due to this required burden of proof, it's in your best interest to work with an experienced medical malpractice lawyer in Louisville who can protect your rights while you focus on recovering from your injuries. Large hospitals and insurance companies have near-limitless resources at their disposal, so trying to take legal action against these entities by yourself is never a good idea.
Successful Case Results
The specialized Louisville medical malpractice lawyers at Dolt, Thompson, Shepherd & Conway PSC have successfully recovered multi-million dollar settlements for clients who have suffered as victims of medical malpractice. Our expert team of attorneys fight to protect the rights of those who have been injured and help secure maximum compensation. Some successful case results include:
$55,000,000 Hospital Liability Settlement
$24,000,000 Settlement Against Pharmaceutical Company
$20,864,937 Medical Negligence Jury Verdict
$18,270,092 Jury Verdict Against Hospital
$10,000,000 Medical Negligence Settlement
$9,030,000 Wrongful Death Due to Medical Negligence
What Are the Different Types Of Medical Malpractice?
T.V. shows like House and Grey's Anatomy would lead us to believe that all medical errors are big and obvious, but that is not always the case. Many victims in medical malpractice cases don't even discover the error until months or years later when other symptoms present themselves.
The most common types of medical malpractice include:
Delayed Diagnosis
A delayed diagnosis occurs when a doctor fails to properly identify the signs of an illness or condition in a timely manner. A delay in treatment can cause the patient to endure pain, suffer further physiological harm, and even be fatal. This is especially grievous in cases of cancer misdiagnosis.
Doctors have a responsibility to listen to patients' descriptions of their symptoms and take their concerns seriously. They must explore all avenues that may explain why the patient is experiencing their symptoms.
When a doctor dismisses a patient's concerns or does not order the appropriate tests to address their symptoms, the doctor may be held responsible for any preventable illnesses or injuries that result from this negligence.
Birth Injuries
Our Louisville birth injury lawyers are experienced with handling cases involving harm to a baby before, during, or immediately after birth. Doctors are required to identify potential problems during a woman's pregnancy or delivery and respond to them appropriately.
During a woman's pregnancy, her doctor must prescribe the appropriate medications to ensure her health and that of her baby. During a woman's labor and delivery process, her doctor must monitor the baby for signs of fetal distress and take action to mitigate the issue. Fetal monitoring negligence cases can be handled by our skilled Louisville medical malpractice lawyers.
Surgical & Anesthesia Errors
While all surgical procedures come with certain risks, doctors are expected to use their years of education and training to resolve issues when they arise.
Surgical errors can lead to complications, infections, disfigurement, and even death. Examples of surgical and anesthesia errors include, but are not limited to:
Unnecessary surgery
Instruments and devices left in the patient
Removal of the wrong organ
Amputation of the wrong limb
Severed arteries
Over sedation of an anesthetic
Medication Errors
From the wrong type of medication to the wrong dose, patients often receive an erroneous prescription that later causes them harm.
Examples of medication errors include:
Ordering the wrong drug dosage
Incorrectly administering a dosage
Misidentifying the appropriate drug
Causing an allergic reaction due to drug interactions
Whenever a doctor, medical professional, or healthcare provider makes a medical error that another similarly qualified professional would not, he or she may be held liable for the resulting damage. The Louisville medical malpractice lawyers at our firm are ready and able to help you pursue compensation for those damages.
Call us at (502) 244-7772 to schedule a free consultation.
Steps For Filing a Medical Malpractice Claim
When filing a medical malpractice claim, you and your Louisville medical malpractice lawyer will take the following steps:
Gather copies of your medical records. Your attorney will analyze your medical records and may solicit opinions from other medical professionals.
Notify medical providers and insurers. Some states require you to complete this step before you can file a lawsuit. You may find that the hospital and insurance company will offer you a settlement during this step. It's up to you and your attorney to determine whether the offer is acceptable.
File the complaint. If the hospital and insurance company's offer is unacceptable, you and your Louisville medical malpractice attorney will file the claim, which includes formal allegations against the negligent medical practitioners. At this point, the lawsuit will begin.
Medical Malpractice Statistics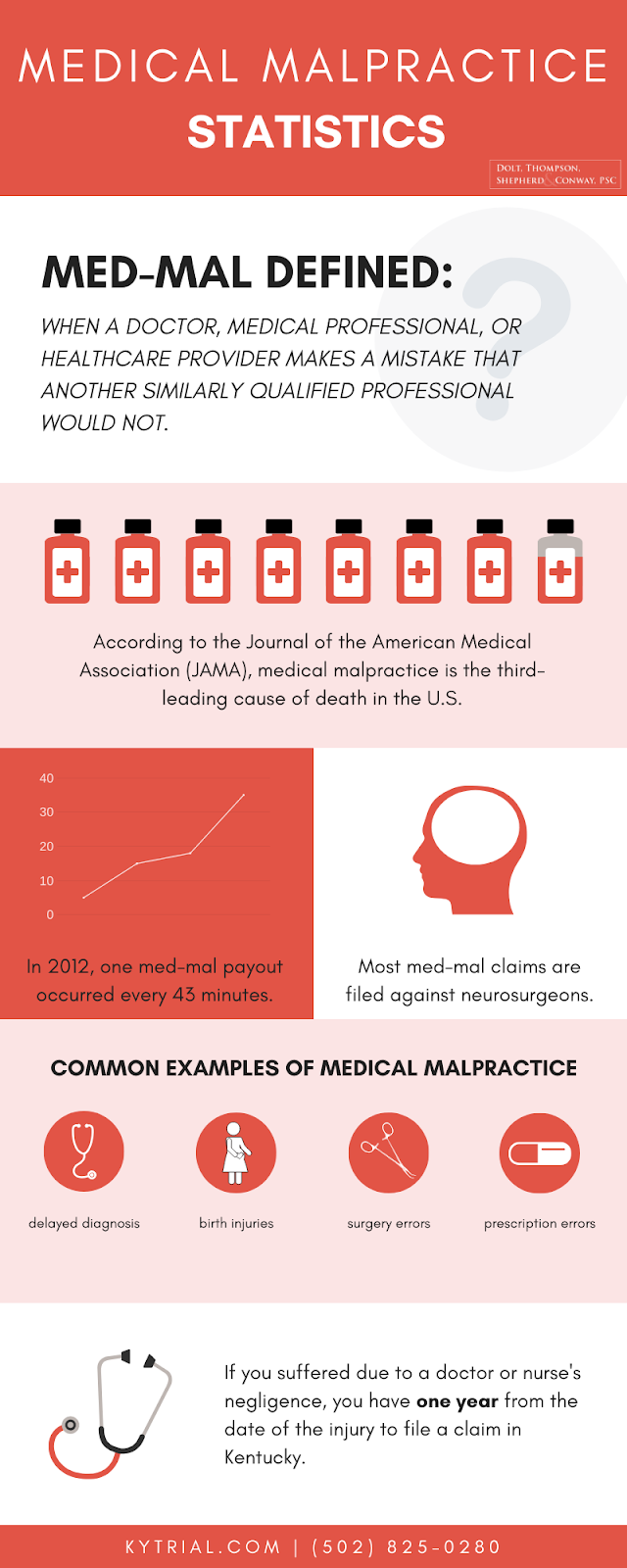 What Damages are Available in a Kentucky Medical Malpractice Claim?
The injuries suffered by victims of medical malpractice can be ongoing and require costly corrective care. Monetary awards, known as damages, are the legal means used to compensate patients for their physical, mental, emotional, and financial injury-related losses.
There are two types of damage awards received by a victim of medical malpractice may receive. These are compensatory damages and punitive damages.
Compensatory Damages
Compensatory damages are composed of economic and non-economic damages. Economic damages are losses with fixed or calculable dollar amounts and encompass current and future injury-related expenses. 
Economic damages may include:
Hospital bills;

Prescriptions;

Occupational or rehabilitative therapy;

Lost income;

Lost earning capacity;

Home and vehicle modifications; and

Psychological counseling. 
Non-economic damages are subjective losses that are more personal to a victim. These damages are compensation for:
Pain and suffering;

Physical scarring and deformities;

Loss of enjoyment of life; and

Loss of companionship.
Punitive Damages
Punitive damages are not compensatory damages. In fact, they are not meant to compensate the victim at all. 
Instead, punitive damages are a way to punish a wrongdoer for particularly egregious or grossly negligent actions. Also called exemplary damages, punitive damages are to set an example of a negligent party and deter similar future behavior.
Punitive damages are rarely awarded. Kentucky allows punitive damage awards when medical malpractice is willful or grossly negligent and results in a wrongful death. 
Judges or juries decide whether to award punitive damages to a victim and how much to award.
Does Kentucky Cap Damages in Medical Malpractice Cases? 
Kentucky does not cap the compensatory or punitive damages awardable in medical malpractice claims.  
What if a Patient is Partially at Fault for Their Injury?
Patients may bear some liability for the seriousness of their injuries in a Kentucky medical malpractice case. A prime example is patient failure to follow-up on preventative care or aftercare instructions causing a condition to worsen.
Kentucky follows the comparative fault doctrine. This system assigns a percentage of fault to each party in a case and then reduces a victim's monetary award by their percentage of fault.
Therefore, a victim awarded $100,000 who is found to be 40% at fault for their injury will have an award reduction of $40,000. The victim's final award amount will be $60,000.
Before any settlement or verdict is reached in a medical malpractice case, a victim must prove the medical provider was liable for their injuries.
How Long Do You Have To Sue For Medical Malpractice?
In the state of Kentucky, you have one year to file a legal claim, starting from the date the medical negligence occurred. This time constraint, called a statute of limitations, can include all different types of medical malpractice, with few exceptions. If the medical malpractice resulted in the patient's death, the loved ones and family members of that individual may have up to two years to file a wrongful death claim against the liable party.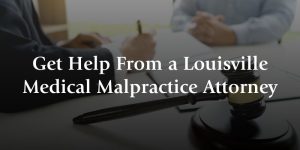 Areas We Serve
The personal injury attorneys at our law firm represent clients with medical malpractice cases in areas across Louisville, Kentucky including:
Downtown Louisville, The Highlands, Old Louisville, St. Matthews, Crescent Hill, Clifton, Parkway Village, Germantown, West Buechel, Audubon Park, Butchertown, East Market District, Shively, Lynnview, Jeffersontown, Lyndon, Orell, Knopp, and more.
Request a Free Case Evaluation with a Louisville Medical Malpractice Lawyer
If you've been harmed by a medical mistake, Dolt, Thompson, Shepherd & Conway, PSC can help. We offer compassionate and knowledgeable representation during this difficult time. Because we handle only a small number of clients at any one time, we are able to offer your family personalized attention to address these issues. Contact our medical malpractice lawyers in Louisville for expert legal help and compassionate support through your medical malpractice case. Get started by scheduling a free case consultation online to find out how our team of Louisville personal injury lawyers can help with your claim.
If a delayed diagnosis or other medical mistake has affected your life or the life of someone you care about, please contact our Kentucky medical malpractice lawyers to learn how we can help: (502) 244-7772 .
Product Liability Settlement $95 Million

Hospital Liability Settlement $55 Million

Product Liability Settlement $30 Million

Truck Accident Jury Verdict $27.3 Million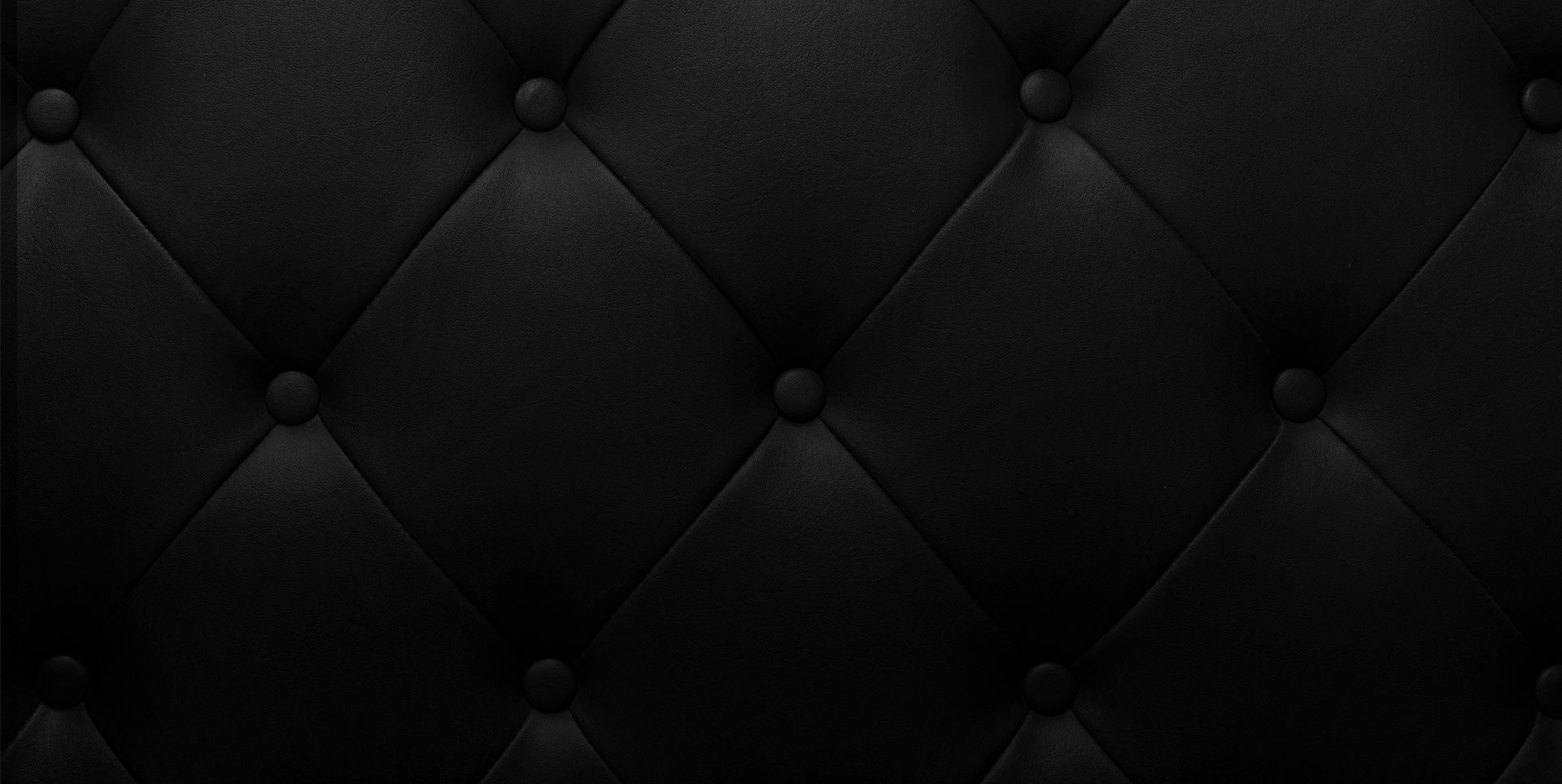 Why Hire Dolt, Thompson, Shepherd & Conway, PSC?
We Change Lives
We Have Some of the Largest Verdicts & Settlements in KY

Our Senior Partner is an Inner Circle of Advocates Member

We Have Over 5 Decades of Experience

In-House Medical Staff to Assist in Case Preparation & Investigations

You Won't Pay Any Upfront Costs

Respected Among Other Firms For Our Reputation in Handling Complex Cases
Award-Winning Attorneys
Recognized as a Top Litigation Firm