Louisville Catastrophic Injury Attorneys
A catastrophic injury will affect every aspect of a person's life. It will also impact the lives of family members and loved ones in a number of ways. With these cases, it is not only about immediate losses but the cost of ongoing or lifelong medical care and support.
Dolt, Thompson, Shepherd & Conway, PSC is committed to representing the interests of people across Kentucky who have had their lives impacted by catastrophic injuries. We handle catastrophic injury cases across the state involving car accidents, truck accidents, defective and dangerous products, railroad accidents, medical malpractice, and more.
The first step toward fair compensation is a free initial consultation with one of our friendly, knowledgeable professionals. Call (502) 244-7772 to get started.
Why Hire a Catastrophic Injury Lawyer in Louisville?
With catastrophic injury claims, complete compensation is essential because it gives the victim and their family the chance at a more stable, bright future. Unfortunately, getting complete compensation for your losses may be a battle. The more severe your injury, the more compensation you are owed and the more motivated the negligent party (and their insurance provider) might be to fight your claim. A skilled catastrophic injury attorney can help protect your rights.
At Dolt, Thompson, Shepherd & Conway, PSC, our personal injury attorneys in Louisville have recovered over $500 million for injured clients in Kentucky. Our Louisville catastrophic injury lawyers know how to take on the most formidable opponents and are passionate about securing complete compensation. Our goal is always to pursue a settlement or award that provides for our client for life.
What Is a Catastrophic Injury?
While the exact definition can vary depending on your state and insurance provider, a catastrophic injury is typically defined as one that has life-altering consequences – and will prevent the injury victim from seeking gainful employment. These injuries usually require surgery at a minimum, and many catastrophic injuries will also lead to lifelong disabilities, loss of basic bodily functions, or paralysis.
The most common types of catastrophic injuries are:
Regardless of the specifics, catastrophic injuries have a far deeper impact than the average injury and will lead to many years of medical treatments and long-term care for the victim. Call Dolt, Thompson, Shepherd & Conway, PSC at (502) 244-7772 to learn about your right to compensation.
Claims for Catastrophic Injuries
A person suffering catastrophic injuries caused by the actions of another person or entity may be entitled to compensation on different grounds. The circumstances of the incident that caused the victim's injury will determine on which ground a victim may make a claim. An experienced catastrophic injury lawyer in Louisville can assess a case and determine whether a victim may be entitled to make a claim on more than one ground.
Negligence
An injured victim may make a claim based on negligence against the person or entity whose actions caused their injury. Negligence is a legal principle that holds wrongdoers accountable for their actions by holding them legally responsible for damages suffered by their victims. In order to succeed on a negligence claim, a victim must prove:
That the defendant owed them a duty of care. Every person in society is required to adhere to a standard of care in their actions, to avoid causing harm to others. The standard of care is assessed from the reasonable person standpoint, and what is expected of a reasonable person under the same circumstances.

The defendant breached their duty of care. The defendant's actions or omissions did not meet the standard of care required in the particular circumstances. For example, road users are required to adhere to road safety rules concerning speed limits, driving under the influence, maintaining their motor vehicles to avoid accidents, and paying attention to other road users. Failure to adhere to these safety rules is a breach of their duty to other road users.

The breach caused injury and was the proximate cause of the victim's injury. For the defendant to bear liability in negligence, the breach of their duty must be the proximate cause of the victim's injuries. In other words, but for the defendant's breach of their duty, the victim would not have suffered any injury.

The victim suffered actual damages. The victim must have suffered actual damages for which the defendant can be held liable. Damages could be in the form of economic losses for medical expenses, past and future lost wages, or loss of income. Persons who suffer catastrophic injuries may also have non-economic losses from their loss of enjoyment of life, and pain and suffering.
Vicarious Liability
Vicarious liability is the legal theory that holds employers liable for the negligent actions of their agents or employees. In order for an employer to be held liable, the employee or agent's negligent acts must have taken place while they were acting within the scope of their employment. Some of the issues that may raise in defense of a vicarious liability claim include the denial of an employer-employee or agent relationship. This issue may come up in cases where a worker is employed by one business, and the employee is temporarily loaned to another business to carry out duties for that business. For example, a truck staffing company may hire drivers that they loan to delivery companies under contract. When such a driver, driving the delivery company's truck is in an accident that causes catastrophic injuries, the victim must make a determination about which company to hold liable for the actions of the driver. Another issue that may arise is that the employer may deny that the employee or agent was acting within the scope of their employment when the negligent acts took place. 
Product Liability
If a person suffers injury from a defective product, they may seek compensation for their catastrophic injuries from the manufacturer of the product. The manufacturer of the defective product can be held liable for the injury, death, or property damage caused by their product if:
The product was being used in its original, unaltered and unmodified condition when it caused injury, death, or property damage

The victim did not perform any unauthorized alteration or modification to the product

The victim exercised ordinary care in the circumstances in their use of the product
Even if the product was defective and it was the substantial cause of injury, death, or property damage, the manufacturer may avoid liability if the victim made unauthorized alterations or modifications, or did not exercise ordinary cause in the use of the product. Reach out to a skilled Louisville product liability lawyer for expert legal help with your injury claim and holding a manufacturer responsible. 
Workers' Compensation
Some workplaces pose a greater risk for catastrophic injuries than others. Construction sites, for instance, can have heavy machinery and equipment that often cause catastrophic injuries. Workers on construction sites also suffer catastrophic injuries from falls on the job. When a worker is injured on the job, they may be entitled to workers' compensation.
Kentucky employers are required to have workers' compensation insurance to cover employee injuries sustained on the job. Under Kentucky Revised Statutes 342.632, every employer with one or more employees must have a workers' compensation policy.
While employees typically do not contribute to workers' compensation premiums, they are entitled to compensation for any injury or death resulting from carrying out their job. It is important to note that just like any other insurance, there is no guarantee that an employee's compensation claim will be honored without dispute. If you are having difficulty getting the full compensation you deserve, an experienced catastrophic injury attorney can advise you on your rights and protect your interests.
Kentucky Comparative Fault Laws
It is common for defendants to try and avoid or reduce their liability by blaming the victim for their injuries. If they cannot succeed in avoiding liability altogether, they can hope to reduce it by apportioning a greater proportion of fault to the victim or to other defendants in the case. Under comparative fault rules, which are followed in Kentucky, the total damages recovered by the victim are reduced by the percentage of fault apportioned to them. For example, in a product liability case, a victim may be apportioned 10% of the fault for their use or misuse of the product. In such a case, if the victim was entitled to $10 million in damages, the victim could recover $9 million in damages and be personally responsible for $1 million. An experienced catastrophic injuries attorney can help ensure that the defendant(s) does not escape liability by blaming the victim for their injuries.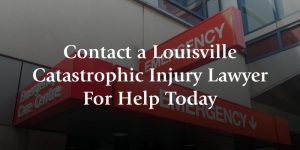 Catastrophic Injury FAQs
What Damages Can I Seek In a Catastrophic Injury Case?
In a personal injury lawsuit, the victim (referred to as the "plaintiff") can seek damages after suffering serious financial and emotional losses due to another party's negligence. These damages take the form of monetary compensation and are intended to "make the plaintiff whole again," meaning that the level of compensation should reflect the scale of the injury and restore the victim's quality of life (as much as possible.)
Damages for catastrophic injuries typically cover for losses like:
Medical expenses, including for hospitalization and ER visits, doctor's visits, lab and diagnostic tests, surgical procedures, prescriptions, and post-operative treatment

Medical devices and equipment (walkers, wheelchairs, prosthetics)

Long-term care and rehabilitative therapy

Counseling and psychotherapy

Home remodeling costs for disabilities

Past and future lost wages

Occupational re-training

Disfigurement and scarring

Physical and emotional pain and suffering
How Long Do I Have to File a Catastrophic Injury Claim in Kentucky?
In Louisville, Kentucky, plaintiffs have a very short window to file a catastrophic injury claim. From the date of your accident, you only have 1 full year to file a lawsuit, otherwise your case may be barred from ever appearing before a court. This is also true for claims filed against a government agency.
Contact Our Experienced Louisville Catastrophic Injury Lawyers
Dolt, Thompson, Shepherd & Conway, PSC has served Kentucky's injured for over 30 years and has a reputation for handling the most challenging cases. In fact, many attorneys turn to us with particularly complicated claims involving catastrophic injuries because they know we have the skill, experience, and desire to take these cases.
Contact our Louisville offices today at (502) 244-7772 for a free consultation. There are no upfront costs for our representation and no fees unless we win.
Product Liability Settlement $95 Million

Hospital Liability Settlement $55 Million

Product Liability Settlement $30 Million

Truck Accident Jury Verdict $27.3 Million
Why Hire Dolt, Thompson, Shepherd & Conway, PSC?
We Change Lives
We Have Some of the Largest Verdicts & Settlements in KY

Our Senior Partner is an Inner Circle of Advocates Member

We Have Over 5 Decades of Experience

In-House Medical Staff to Assist in Case Preparation & Investigations

You Won't Pay Any Upfront Costs

Respected Among Other Firms For Our Reputation in Handling Complex Cases
Award-Winning Attorneys
Recognized as a Top Litigation Firm