Louisville Explosion Accident Attorney
Working in a power plant, refinery, factory, or another industrial setting can be quite dangerous, even if your company seems to have proper safety measures in place. Unfortunately, accidents involving industrial explosions often extend beyond the scope of the employees—nearby residents are often left to deal with the damaging fallout. Industrial areas house toxic chemicals, complex machinery, flammable materials, and other dangerous entities that could facilitate a serious accident or worsen an already perilous situation. As a result, even a minor mistake could trigger a major explosion, harming on-duty workers and nearby passersby or residents. Whatever the circumstances, if you were injured in a workplace accident that resulted in an industrial explosion, our firm is prepared to help you take action.
Many industrial fire incidents are the result of negligence or carelessness, which means you may have a right to take legal action if you were harmed. At Dolt, Thompson, Shepherd & Conway, PSC, we can work with you to discover what caused your industrial explosion and who could be liable. If you're ready to explore your options, reach out to a Louisville explosion accident attorney at our firm today. 
Why Choose Our Firm 
Our Louisville industrial explosion injury attorneys have the experience and resources necessary to provide you with the high-quality legal representation you need and deserve. Our Louisville injury attorneys have been in practice since 1986 and have recovered more than $500 million in settlements and verdicts on behalf of injured clients and their families. If you were injured in an industrial explosion, we want to help.
Call (502) 244-7772 to request a free consultation with our Louisville industrial explosion lawyer today.
What Causes Industrial Explosions?
Industrial environments, including plants, refineries, and factories, often house chemicals, flammable materials, heavy machines, and other dangerous supplies and tools. Any worker who has direct or indirect contact with these dangerous materials and machines must be equipped with the proper training and experience, otherwise, they could endanger themselves and others. If a workplace incident happens, and an explosion takes place, catastrophic injuries or even wrongful death can follow.
Potential causes of industrial explosions include:
Defective equipment

Failure to comply with state or federal laws

Inadequate safety equipment

Lack of proper safety training

Mishandling of flammable chemicals

Poorly maintained equipment

The presence of unstable gases

Unsafe storage of materials
Determining Liability for Industrial Explosions
Unfortunately, industrial explosions aren't rare, and when they occur, they often cause substantial damage. In the aftermath of these serious incidents, people are often left to wonder—what happened? An industrial explosion could happen for many reasons, including employee mistakes, supervisor blunders, mechanical failures, and more. Once we've determined what caused the explosion, our team of explosion accident lawyers in Louisville can then help identify the liable party.
Depending on the circumstances of the incident, several parties could be liable for an industrial explosion, including machine manufacturers, machine designers, plant owners, and supervisors. If, for example, an industrial explosion took place in a factory due to a machine malfunction, the machine manufacturer could be liable. However, if the accident occurred because the owner failed to order regular machine repairs, the owner could be liable. Or, if one of these scenarios is true and workers suffered worsened injuries because they lacked proper safety equipment, their employers could also be liable for the resulting damages.
How Do You Prove Negligence in a Work Environment?
Negligence is a legal principle that holds wrongdoers accountable for their actions by holding them legally responsible for damages suffered by their victims. Just as every person has a duty to avoid causing harm to others, employers also have a duty to their workers to avoid causing them harm while they are doing their job. An employee may be entitled to compensation if they are injured while they are performing their work duties and their injury was caused by the employer's negligence. Employers are required to provide a safe workplace, free of recognized hazards, and comply with all safety standards and regulations. That includes providing safe equipment, taking care in hiring and training workers, and ensuring a safe work environment.
To prove a case of negligence, the victim must prove all elements of their case:
That the defendant owed them a duty of care;

The defendant breached their duty of care;

The breach caused the victim's injury:

The breach was the proximate cause of the victim's injury: and

The victim suffered actual damages.
In an industrial explosion case, there may be several parties who owe a duty of care to the victim and may bear legal responsibility for the victim's injuries. An employer who fails to maintain equipment, which results in the industrial explosion; an employer who fails to train their workers on the proper use of an equipment, which results in a malfunction and explosion; a contractor who fails to safely install equipment; or a manufacturer whose defectively manufactured product caused the explosion. 
The case must be quickly and diligently investigated to identify all the parties who failed in their duty of care to the victim. You need an experienced Louisville industrial explosion injury attorney who knows the law and has the resources to investigate your case and go after every person or entity whose negligence caused your injury.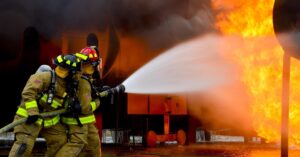 Occupational Safety and Health Administration (OSHA) Violations
Employers are required to comply with OSHA regulations for the safety of their workers. An employer that fails to comply with OSHA regulations that results in an industrial explosion and causes injury may be held legally responsible for the damages suffered by any victims. When injury from an industrial explosion is caused by an employer's OSHA violations, the victim does not have to prove the employer's breach of their duty of care. The employer's OSHA violation in itself is the proof of their breach of duty to the injured victim.
Product Liability in an Explosion Accident
An industrial explosion may be caused by a defectively manufactured product in use. Manufacturers of products have a duty to avoid causing harm to consumers of their products. When an industrial explosion is caused by a defective product, the manufacturer of the product may be held responsible for any injury, death, or property damage caused. The victim must prove that:
The product was being used in its original, unaltered and unmodified condition when it caused injury, death, or property damage

The victim did not perform any unauthorized alteration or modification to the product

The victim exercised ordinary care in the circumstances in their use of the product
Even if the product was defective and it was the substantial cause of injury, death, or property damage, the manufacturer may avoid liability if the victim made unauthorized alterations or modifications, or did not exercise ordinary cause in the use of the product. 
A manufacturer also has a duty to make consumers aware of:
Any inherent dangers in handling of the product; 

The impact sensitivity of any inherent dangers; 

Safe use of the product; and 

Required maintenance of the product. 
A manufacturer may be able to avoid complete liability if they have met their duty to make customers aware of how to safely use their product.
Proving a defective product case requires the participation of experts in the same field who can give testimony as to the defect in the product and any industry standards that the manufacturer failed to comply with. With over five decades experience fighting for injured victims across Kentucky, the Louisville product liability attorneys at Dolt, Thompson, Shepherd & Conway, PSC have the resources and experience to take on these challenging cases.
Do You Have A Wrongful Death Claim?
An industrial explosion may result in horrific injuries or even death. Under Kentucky law, when a person dies from injuries caused by the negligence or wrongful act of another person or entity, their beneficiaries may be able to recover damages from the person or entity whose negligence caused the death, or their agent. The victim's beneficiaries may also be entitled to punitive damages if the negligent party's actions were grossly negligent.
Kentucky law also provides for which of the victim's family is entitled to any compensation recovered. The first priority is to the victim's widow or husband and children. If your loved one has died because of an industrial explosion caused by negligence, you should speak to our team of experienced Louisville wrongful death attorneys to assess your case and determine if you are in a position to make a claim for their wrongful death.
What If I Had Workers' Compensation?
Kentucky Revised Statutes 342.632 requires every employer with one or more employees to have a workers' compensation policy. Workers' compensation is an insurance policy that covers certain damages an employee suffers if they are injured on the job. An industrial explosion is likely to result in catastrophic injuries, which may cause damages beyond the limits of the workers' compensation policy. 
While employees typically do not contribute to workers' compensation premiums, they are entitled to compensation for any injury or death resulting from carrying out their job. It is important to note that just like any other insurance, there is no guarantee that an employee's compensation claim will be honored without dispute. If you are having difficulty getting the full compensation you deserve, an experienced catastrophic injury attorney in Louisville can advise you on your rights and protect your interests.
Physical, Emotional, and Financial Damages After a Kentucky Explosion Accident
Industrial explosions are notoriously damaging and can lead to severe physical injuries. Workers caught in industrial explosions could experience severe burn injuries, lacerations, contusions, broken bones, spinal injuries, head and brain injuries, and more. Coping with these injuries isn't just physically painful, it can also cause severe financial difficulties and emotional distress. It isn't uncommon for explosion survivors to experience anxiety, insomnia, or PTSD, (post-traumatic stress disorder) for months, or years, after their accident. Additionally, survivors could be left with expensive medical bills, future medical treatments, costly medication, and loss of wages. Fortunately, if you're left in this type of predicament, you don't need to handle it alone.
Our personal injury firm understands how difficult it is to deal with the aftermath of a serious injury, especially when that injury could have been prevented. If the workplace explosion that harmed you was the result of someone else's mistake or negligence, our Louisville injury attorneys may be able to help you pursue legal action against the liable party. Call (502) 244-7772 to get started on your case with a free consultation with an explosion accident lawyer in Louisville.
Get Started Today With a Louisville Explosion Accident Lawyer
If your injury was caused by some type of foul play, we're ready to protect your interests. We understand how traumatizing these types of incidents can be, and we want to do our part to hold the negligent party responsible for their careless actions. Our Louisville-based attorneys can provide you with the legal guidance you need while we pursue maximum compensation on your behalf. Whether you were injured as a worker, bystander, or a nearby resident, our personal injury attorneys in Louisville can put our legal skills to work for you.
Contact Dolt, Thompson, Shepherd & Conway, PSC to get in touch with our industrial explosion attorneys in Louisville.
Product Liability Settlement $95 Million

Hospital Liability Settlement $55 Million

Product Liability Settlement $30 Million

Truck Accident Jury Verdict $27.3 Million
Why Hire Dolt, Thompson, Shepherd & Conway, PSC?
We Change Lives
We Have Some of the Largest Verdicts & Settlements in KY

Our Senior Partner is an Inner Circle of Advocates Member

We Have Over 5 Decades of Experience

In-House Medical Staff to Assist in Case Preparation & Investigations

You Won't Pay Any Upfront Costs

Respected Among Other Firms For Our Reputation in Handling Complex Cases
Award-Winning Attorneys
Recognized as a Top Litigation Firm