Burn Injury Attorneys in Louisville
Caution: Contents may be hot! This warning graces the lid of every McDonald's coffee cup, and other restaurants or cafes that serve hot coffee and tea deliver drinks with a warning as well. When a woman sustained third-degree burns from her McDonald's coffee, many mocked the $2.9 million settlement awarded to her after a trial. At Dolt, Thompson, Shepherd & Conway, PSC, we understand how serious her case was. No matter the cause, severe burn injuries can have life-changing consequences such as:
Scarring
Intolerance of Heat & Cold
Loss of Mobility
Organ Damage
They may require extensive treatment that runs up high medical bills, and for those affected, could permanently change the way they interact with the world. Our attorneys work with an in-house medical team to build the strongest cases we can for our clients—and we're not afraid to take a case to trial to win the compensation they deserve. Navigating recovery after a life-changing injury is difficult enough. Let us take the lead on your legal actions.
How Do You Determine the Severity of Burn Injuries?
You've probably heard of first-, second-, and third-degree burns before. These medical classifications, detailed by doctors, help classify the severity of a burn injury. Though any burn, by definition, causes affected skin cells to die, there's a big difference between first-degree and third-degree burns.
Third-degree burns are characterized by:
Dark brown or white, waxy skin color
Evidence of char
Raised site of injury
Leathery skin texture
Blisters that do not progress or heal
Potential numbness of wound
A third-degree burn affects both the dermis and the epidermis. Hair follicles and sweat glands are destroyed, and nerves may be damaged. These types of burns do not heal well on their own and require skin grafts due to the level of destruction. Beyond third-degree burns are three further classifications: fourth-, fifth-, and sixth-degree, which affect one's fat, muscle, and bone, respectively.
Common Causes of Burn Injuries
Though most people associate fire with burn injuries, anything that damages the skin cells enough to kill them is considered a burn. This includes sunburns, but also damage caused by hot water or other liquids, steam, electrical currents, exposure to harsh chemicals, and even radiation. No matter the cause, burns can have serious consequences and require extensive medical treatment.
Structure Fires may be caused by a furnace malfunction, improper chemical storage, or even an industrial explosion. If the situation is made worse by fire code violations or malfunctioning fire safety equipment, people trapped in a burning building may suffer extreme burns.
Vehicle Accidents pose a fire hazard if flammable gasoline or diesel spill onto the roadway. In electric cars, battery fires may also put involved parties at risk. A Louisville car accident attorney can help determine who holds liability, either the at-fault party or the vehicle manufacturer, if unsafe design or malfunctioning parts contributed to the blaze.
Electrical Accidents can start fires, or may cause electrocution injuries in unsafe working areas, unmarked hazards, or due to exposed electrical components. People exposed to high levels of electrical current may sustain skin and/or internal burns.
Chemical Exposure, whether to acidic or basic (alkaline) compounds, may result in permanent tissue damage. Internal organs or external tissues without protection (such as the eyes) are likely to sustain heavier damage than skin tissue. Chemicals that are heavily alkaline or acidic may cause severe burns.
Radiation Burns, thankfully not a concern for most of us, may be the hardest type of burn to recover from due to enduring symptoms and damage. From finding successful pain treatments to completing surgical reconstruction, radiation burns present complex treatment challenges.
Inhalation Injury occurs when smoke or toxic chemicals scar the respiratory system. Heat, chemical irritants, and the transference of toxins into the bloodstream cause damage in three separate ways when someone inhales hot gases and/or dangerous chemicals. Inhalation injuries can damage cells and cause difficulty breathing or the buildup of fluid in the respiratory system.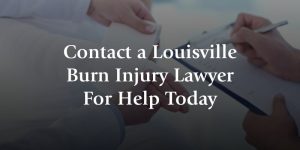 Burn Injuries Require Long-Term Treatment
Severe burns require emergency care. Blood loss and your body's inflammatory response can result in dangerous complications during the initial treatment. Afterward, burn injuries require extensive care to help patients reclaim a similar standard of living.
The impact of a burn injury goes far beyond the affected area. More than 10% of burn patients face complications including pneumonia, sepsis, lung failure, infection, and acute respiratory distress syndrome (ARDS). All of these are treatable, but can add weeks to a hospital stay or, in some cases, result in fatality. The more extensive the burns, the more likely a patient is to succumb to infection.
Recovering from a severe burn requires skin grafts, as the damage done is too significant to heal on its own. These procedures take skin from another part of the patient's body to cover the damaged areas. After surgery, the patient will undergo occupational and physical therapy, and work with a nutritionist to ensure the fullest recovery possible.
What Permanent Damages Can Be Caused By Severe Burn Injuries?
Unfortunately, even with medical advances, burn injuries may not be fully treatable. From aesthetic affects to permanent disability, burns can change your work, hobbies, and interactions with others. Working with the medical team at Dolt, Thompson, Shepherd & Conway, PSC, you can identify permanent losses resulting from burn injury—and we can request compensation for them on your behalf.
Loss of Vision: Most likely to happen in a chemical burn incident, damaged eye tissue cannot be repaired.
Organ Damage: Often the body's response to burn injury deprives organs like the lungs, heart, brain, and kidneys of oxygen for a short time. Though the immune response can be controlled, the organ damage lingers.
Loss of Mobility: Burned skin or tendons around joints may tighten, restricting a patient's movement. In some cases, scarring can also affect joint function.
Scarring: Severe burns leave scars, sometimes even after skin graft surgery. Especially when on highly visible body parts like the face and hands, these scars can have a large psychological impact and negatively affect a patient's quality of life.
Contact a Louisville Burn Injury Lawyer For Support
Burn accidents can kick off in a second but, sadly, the damage they cause may last a lifetime. At Dolt, Thompson, Shepherd & Conway, PSC, we understand the gravity of severe burn injuries. Our team of personal injury lawyers in Louisville know that when you have life-long symptoms, you need life-long support. Our in-house medical team is here to help us investigate your case and provide an accurate accounting of the compensation you deserve.
Contact our burn injury attorneys in Louisville by reaching out online or calling (502) 244-7772.
Product Liability Settlement $95 Million

Hospital Liability Settlement $55 Million

Product Liability Settlement $30 Million

Truck Accident Jury Verdict $27.3 Million
Why Hire Dolt, Thompson, Shepherd & Conway, PSC?
We Change Lives
We Have Some of the Largest Verdicts & Settlements in KY

Our Senior Partner is an Inner Circle of Advocates Member

We Have Over 5 Decades of Experience

In-House Medical Staff to Assist in Case Preparation & Investigations

You Won't Pay Any Upfront Costs

Respected Among Other Firms For Our Reputation in Handling Complex Cases
Award-Winning Attorneys
Recognized as a Top Litigation Firm